As part of Archway Learning Trust we are delighted to have been awarded by the DfE as an accredited provider of Subject Knowledge Enhancement (SKE) courses for teacher training
Why choose Bluecoat SCITT to complete your SKE?
Our Subject Knowledge Enhancement (SKE) courses aim to prepare you for your initial teacher training by helping you to gain the depth of subject knowledge and skills you need to be able to teach your chosen subject.
Our SKE courses aim to help you to:
Gain comprehensive knowledge and understanding of your chosen subject
Identify key concepts within your subject
Gain skills to design, present and evaluate lessons to have an impact on pupil progress
Improve your critical analysis, reflection and evaluation skills
Discover ideas and activities that you can use in the classroom from your own learning journey
Tailored Course Lengths to suit you – range between 8-28 weeks
Range of Secondary Subjects
Funding and Bursaries available
Free for eligible learners
Offered online for flexibility and around other commitments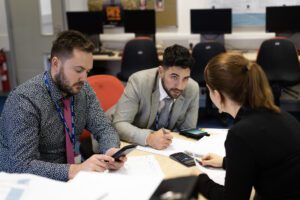 ELIGIBILITY
Our SKE courses are designed for ITT participants who need to gain the depth of knowledge needed to train to teach their chosen subject. To be able to undertake a SKE course this must be set as a CONDITION for your ITT OFFER and your ITT provider must agree that without the course you would be highly unlikely to meet the subject knowledge requirements of the Teachers' Standards by the time your ITT is completed.
SKE is set as a condition of your ITT offer
Your ITT subject focus and SKE match
Your degree in your ITT subject focus was not awarded in the last five years
You have a degree 2:2 or above.
If your SKE and ITT do not overlap your bursary payment will be £175 a week for full time study to reflect 25 hours study as set by the DfE (pro rata for part time)
COURSES AVAILABLE
| | |
| --- | --- |
| Subject  | Course length available (weeks) |
| Biology | 8, 12, 16, 20 |
| Chemistry | 8, 12, 16, 20, 24, 28 |
| Physics | 8, 12, 16, 20, 24, 28 |
| Computing | 8,12,16 |
| DT | 8 |
| English | 8,12,16 |
| Spanish | 8 |
| | |
| | |
| | |
| | |