We are taking bookings for the next academic year from September 2023!
TEACHING TASTER SESSIONS
Give you a real insight into teacher training and life in school as a teacher, a perfect opportunity to find out everything there is to know about teacher training and how to make the most of a fulfilling teaching career, as well as supporting your application to teacher training programmes!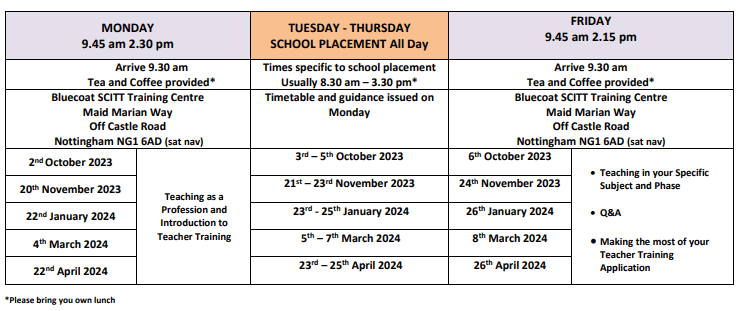 VIRTUAL EVENTS – ONLINE
Introduction on How to Get into Teaching
Attending a Taster Session will give you a real insight into teacher training and life in school!
We will support you with;
Gaining an early understanding and appreciation of teaching strategies
Preparing for and get the most from your School Experience and days in school
Any help you require with your teacher training application
Being able to ask lots of questions
"It was an insightful experience, learning and sharing from everyone's experience"
"Staff and students were lovely, very knowledgeable, and informative, I had a great experience!"
"This has provided me with everything I needed.  I'm so pleased I did it, I am now certain this is what I want to do"
Many of our trainees over the years have attended a Taster Week, supporting and informing their decision making, and went on to successfully complete their teacher training!
"I found the time extremely helpful and inspirational, you really do put a lot of thought into helping aspiring teachers and I've been excited to begin my teaching journey ever since!"
"The whole experience was very useful, school placement gives the best preparation/experience of the school environment; everyone was very helpful"
Check if you meet the Entry Criteria for Teacher Training
You'll need to hold an undergraduate DEGREE awarded by a UK higher education provider, or a recognised equivalent qualification
You'll need to have achieved a standard equivalent to grade C (4) or above in GCSE English and Mathematics
If you intend to train to teach pupils aged 3-11 (early years and primary), you must also have achieved a standard equivalent to a grade C(4) or above in a GCSE Science subject
WE LOOK FORWARD TO MEETING YOU AND DISCUSSING YOUR TEACHING JOURNEY WITH YOU