OUR INTENT
At Bluecoat SCITT Alliance, we celebrate inclusion and diversity and we encourage our trainees to be committed, reflective professionals with high levels of pedagogical skill and subject knowledge. Our education and training are designed to prepare new teachers to be ambitious for all of their learners, founded in a culture of high aspirations. Through collaboration with our partnership schools, we aim to provide a high-quality, coherent, rich and inclusive curriculum which ensures that novice teachers are well-equipped to meet the needs of all learners.  Moreover, we aim to prepare our trainees for sustained careers as highly-skilled practitioners within the teaching profession, in order to provide the East Midlands with dedicated teachers who are confident in meeting the needs of our diverse partner schools.
Supportive and tailored traini
ng of teachers for the future!
Each of our trainees receives a SCITT lap top to support their training year.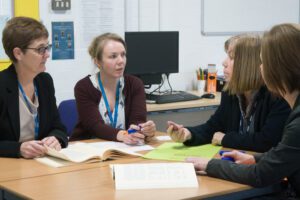 OUR COMMITMENT
From the point of receiving an application we are committed to supporting individuals through the teacher training process and into their career as a teacher.  You will be trained alongside experienced teachers in the best primary and secondary schools, in a supportive and aspirational environment to prepare you for a life-long successful career.
PARTNERSHIP AND COLLABORATION
Bluecoat SCITT Alliance Nottingham is part of Archway Learning Trust a well established multi academy trust and its family of schools within the Trust.  We work in partnership with a range of other schools in the region offering a variety of diverse settings.  We are proud to be collaborating with Sheffield Hallam University who have a long history and forward thinking reputation of Initial Teacher Education to offer high quality initial teacher training.
OUR STRENGTHS
We are proud of the recognition by OFSTED 2017 that "Leadership of the provision is a strength, particularly the leadership of the head of the SCITT. Leaders have a clear moral purpose and an ambition to ensure that the provision best meets the needs of trainees. There is strong commitment, passion and skill to train the very best teachers and for them to be employed within the East Midlands.
There is very strong and effective engagement of schools within the partnership, which is evident in their key role in the recruitment of trainees and in their contribution to strategic planning and strong understanding of the partnership's priorities.
Completion and employment rates have rapidly improved in the two years since the partnership opened. Completion rates are broadly in line with the national average. Employment rates are above the national average. The provider is meeting local needs well, by providing good-quality teachers in a region where it is difficult to recruit.
Trainees have high standards of professionalism, which are demonstrated by their high expectations of themselves and their pupils, their rigorous planning, excellent professional conduct and wider contribution to their employing schools.
Trainees receive high-quality and tailored support in response to their emerging needs. This ensures that any trainees experiencing difficulties are quickly identified and then supported effectively.
High-quality subject training takes place weekly. This is well planned and carefully focused so that trainees are quickly able to apply their learning and research in classroom situations"